Jun 23rd, 2008 by admin | 2 Comments »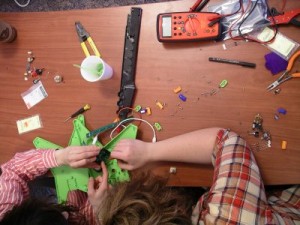 ART PROJECTS – Finding the Glitch
– Circuit Bending
– DIY Electronics: Stepped Tone Generator
—
DOWNLOAD INTRODUCTION TO CIRCUIT BENDING HERE!!
Below is a description of BENDING from Wikipedia. There doesn't seem to be a Spanish entry for Circuit Bending in Wikipedia! If Anyone is writing it let me and Alexandre know – we will help out!
* Circuit bending is the creative, DIY (Do It Yourself) short-circuiting of electronic devices such as low voltage, battery-powered guitar effects, children's toys and small digital synthesizers to create new musical instruments and sound generators. Emphasizing spontaneity and randomness, the techniques of circuit bending have been commonly associated with noise music, though many more conventional contemporary musicians and musical groups have been known to experiment with "bent" instruments. Circuit benders remove the rear panel and connect circuits on a trial and error basis. More experienced benders use a soldering iron and add other components such as potentiometers, resistors or capacitors, which creates an even broader range of sounds.
—

The Stepped Tone Generator is a sounds generating device that we will be building this week. It was first designed by Forrest M. Mims III then adapted by DIY electronics / noise music communities and is often referred to as the Atari Punk Console
You are going to learn how to use a breadboard for prototyping your circuits then you will build a permanent version. Yay!
Here is the Schematic I prepared. It is a bit different than some of the ones you will find online – Instead of using 2 potenciometros I suggest using one and then alligator clips that you can attach other variable resistors too.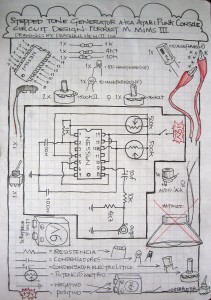 Here is the Parts list for the Stepped Tone Generator:
LM556 (circuito integrado)
1 x 9 volt battery
1 x 9 volt battery clip
1 x audio jack (female rca)
1 x on/off toggle switch
1 x 500k Linear Potentiometer
1 x Alligator clip
1 x 1k resistor (1/4 watt)
1 x 10k resistor (1/4 watt)
1 x 4.7k resistor (1/4 watt)
1 x 10 nf (103) capacitor
1 x 100nf (104) capacitor
1 x 10 uf electrolytic capacitor (polarized) (5 volt to 15 volt wattage rating)
—
TECHNOLOGY

* Learning Pure Data : controls, sounds, images.
Pure Data (o Pd) es un lenguaje de programación gráfica desarrollado por Miller Puckette durante los años 90 para la creación de música computarizada interactiva y obras de multimedia. Aunque Puckette es el principal autor del software, Pd es un proyecto de código abierto y tiene una gran base de desarrolladores trabajando en nuevas extensiones al programa. Está publicado bajo una licencia similar a la licencia BSD.
Pd es muy similar en alcance y diseño al programa original de Puckette, Max(desarrollado cuando él estaba en IRCAM), y es hasta cierto grado interoperable con Max/MSP, el sucesor comercial del lenguaje Max. Ambos Pd y Max son ejemplos discutibles de lenguajes de programación de "flujo de datos". En este tipo de lenguajes, funciones u "objetos" son conectadas o "parchadas" unas con otras en un ambiente gráfico que modela el flujo del control y el audio. A diferencia de la versión original de Max, sin embargo, Pd siempre fue diseñado para hacer procesado de señales y tasas de control en la CPU nativa, en vez de descargar la síntesis y el proceso de señales a un tablero de PDS (como el Ariel ISPW que era usado para Max/FTS). El código de Pd es la base de las extensiones MSP de David Zicarelli al lenguaje Max para hacer proceso de audio en software.
Con la adición del externo "Entorno Gráfico para Multimedia" (GEM, por su nombre en inglés), y otros externos diseñados para trabajar con él (como Pure Data Packet, PiDiP para Linux, framestein para Windows, GridFlow para proceso de matrices n-dimensionales que integra Pure Data con el lenguaje de programación Ruby, etc.), es posible crear y manipular vídeo, gráficos OpenGL, imágenes, etc, en tiempo real con aparentemente infinitas posibilidades de interactividad con audio, sensores externos, etc.
Source : http://es.wikipedia.org/wiki/Pure_data
Enlaces
– The Pure Data Downloads. (english) You should use the latest Pd-extended for your architecture/OS, such as "Linux Intel" or "Mac PPC".
– Miller's Pd Manuel (espanol)
– Documentation about Pure Data (english)
– The GEM Manual (english)

AUTONOMY BUILDING
– The Pure Data SVN repository : where the latest externals' code is
– The DataFlow IRC channel (english, other)
– The DataFlow Wiki (english, français)
– The Pure Data mailing list
– Pd Forum (espanol)