Jun 16th, 2008 by admin | No Comments »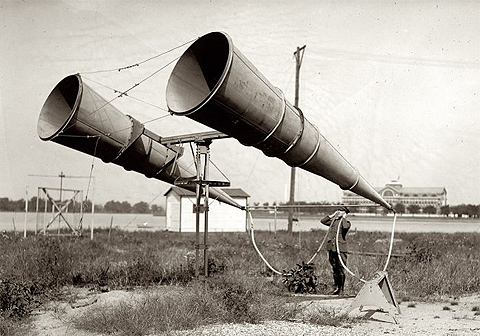 Military Acoustic Radar Locator (Non-electrical amplification devices to detect the presence of enemy ships and aircrafts) – A two-horn system at Bolling Field, USA, in 1921. http://www.dself.dsl.pipex.com/MUSEUM/COMMS/ear/ear.htm
ART PROJECTS
– Active listening activities: Soundwalk
– Experimentations with old technology
– Collaborative Artwork: Installation or Performance using contact microphones
LINKS
– Women With Kitchen Appliances
– AP033 – Le Poulpe
– Personal Soundtrack Emitters
– Justice Yeldham
– Erika Lincoln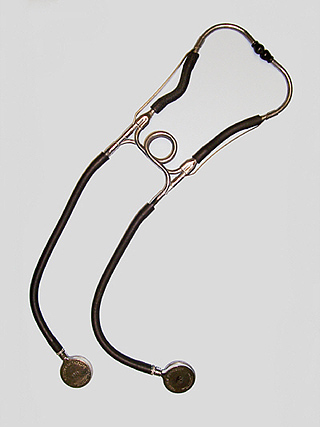 Doctors listening to Patience in Stereo- Binaural Stethoscope – Circa 1940
TECH PROJECTS
– Introduction to soldering
– diy contact microphone
El"hazlo tú mismo" o "hágalo usted mismo", DIY (en inglés "Do It Yourself"), es la práctica de la fabricación o reparación de cosas por uno mismo, de modo que se ahorra dinero, se entretiene y se aprende al mismo tiempo. Es una forma de autoproducción sin esperar la voluntad de otros para realizar las convicciones propias.
La ética del Do It Yourself está generalmente asociada a varios movimientos anticapitalistas, ya que rechaza la idea de tener que comprar siempre a otros las cosas que uno desea o necesita. Se trata de un movimiento contracultural trasladable a cualquier ámbito de la vida cotidiana. Hay muchos ejemplos del uso de esta filosofía. La primera puede ser las reparaciones que suele hacer el dueño de casa, sin la necesidad de tener que recurrir a profesionales como plomeros, electricistas, etc.
El movimiento punk se ha caracterizado por hacer parte de él esta filosofía, al reparar prendas, o al fabricarlas ellos mismos, así como para decorar pantalones, remeras, cazadoras de cuero, camisetas y demás. También se organizan sus propios sistemas de trabajo, comunicación, edición y distribución. Esto ha sido heredado a otros movimientos contraculturales, tales como el gótico, el hardcore, el indie y contraculturas denominadas alternativas.
Muchos músicos de instrumentos eléctricos (guitarras y bajos principalmente) fabrican sus propios pedales de efectos, amplificadores o inclusive sus propios instrumentos. También se habla de DIY para referirse a aquellos artistas que, oponiéndose al sistema establecido por la industria musical actual, graban con sus propios medios (y en ocasiones con un presupuesto cero), autogestionan sus actuaciones, autopromocionan su música, etc. – Hágalo usted mismo [en línea]. Wikipedia, La enciclopedia libre, 2008 [fecha de consulta: 11 de junio del 2008]. Disponible en http://es.wikipedia.org/w/index.php?title=H%C3%A1galo_usted_mismo&oldid=18083142.
Do it yourself (DIY) is a term used by various communities that focus on people creating things for themselves without the aid of paid professionals. The notion is largely made possible by living in a modern industrial society, and is related in philosophy to the Arts and Crafts movement of the late 19th and early 20th centuries. Many modern DIY subcultures take the traditional Arts and Crafts movement's rebellion against the perceived lack of soul of industrial aesthetics a step further. DIY subculture explicitly critiques modern consumer culture, which emphasizes that the solution to our needs is to purchase things, and instead encourage people to take technologies into their own hands to solve needs.
– Do it yourself. (2008, June 13). In Wikipedia, The Free Encyclopedia. Retrieved 21:30, June 15, 2008, from http://en.wikipedia.org/w/index.php?title=Do_it_yourself&oldid=219060780
LINKS
– Soldering tips
– How to Solder Video
– Como soldar (guia básica)
– Piezo electricidad (wikipedia)
– How to make a Contact Mic for a guitar
– Evil Mad Science
– CRAFTSTER
– INSTRUCTABLES
– MAKE
– HACK-A-DAY
– DORKBOT
AUTONOMY BUILDING ACTIVITES
– Introduction to open source practices
– Development of Blog
– Development of mailing list
El "Software Libre" es un asunto de libertad, no de precio. Para entender el concepto, debes pensar en "libre" como en "libertad de expresión", no como en "cerveza gratis" [N. del T.: en inglés una misma palabra (free) significa tanto libre como gratis, lo que ha dado lugar a cierta confusión].
"Software Libre" se refiere a la libertad de los usuarios para ejecutar, copiar, distribuir, estudiar, cambiar y mejorar el software. De modo más preciso, se refiere a cuatro libertades de los usuarios del software:
La libertad de usar el programa, con cualquier propósito (libertad 0).
La libertad de estudiar cómo funciona el programa, y adaptarlo a tus necesidades (libertad 1). El acceso al código fuente es una condición previa para esto.
La libertad de distribuir copias, con lo que puedes ayudar a tu vecino (libertad 2).
La libertad de mejorar el programa y hacer públicas las mejorasa los demás, de modo que toda la comunidad se beneficie. (libertad 3). El acceso al código fuente es un requisito previo para esto.
Source : gnu.org/philosophy
LINKS
– Información sobre Software Libre y Nuevas Tecnologías
– Free Software Foundation Europe (Spanish)
– What is free software (Wikipedia)
– Software Libre Chili
– How to make a mailing list – Mailman documentation
– Free architecture designs
– Collection of free e-books
– Free manuals about how to use free software
– GNU México – Software Libre
– PIKSEL (NORWAY)
– BENT FESTIVAL (NYC)
– MAKE ART FESTIVAL (FRANCE)