Jun 30th, 2008 by admin | 2 Comments »
ART PROJECTS – LiM0tRónICa
FACTS:
* There are lots of people eating Lemons in Mexico
* Lemons can be used as batteries
* If you force them to – Lemons can make *noise*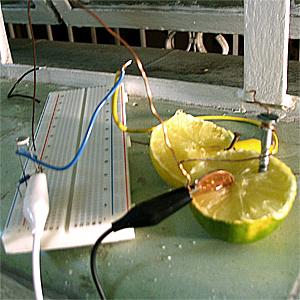 LiM0tRónICa is an experimental audio/visual performance and installation that consists of a series of electronic experimentations that use handmade electronics, open source software and lemons.
We perform alchemy on lemons – tap them for sound and make them *squeal*.
LiM0tRónICa is a collaboration between the LAN Pa®ty [Alexandre Quessy + Darsha Hewitt] and the students in the OPENSOURCE PRACTICES – COLLABORATIVE APPROACHES AND EXPERIMENTAL ELECTRONICS FOR ARTISTS workshop at Escuela Superior de Artes de Yucatán (ESAY).
—

**CLICK HERE TO SEE THE BEST LEMON BATTERY VIDEO ONLINE**
TECHNOLOGY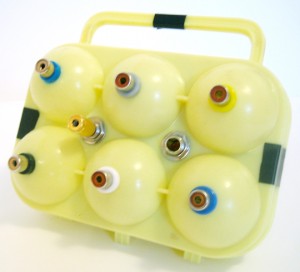 Mezclador Pasivo Del Velis De Hueves (mezclador pasivo de cuatro canales)
Batería de limón
La batería de limón es un experimento propuesto como proyecto en muchos libros de textos de ciencias. Consiste en insertar, en un limón, dos diferentes objetos metálicos, por ejemplo un clavo galvanizado y una moneda de cobre. Estos dos objetos trabajan como electrodos, causando una reacción electroquímica que genere una pequeña cantidad de electricidad
Electrical switches
Un interruptor eléctrico es un dispositivo utilizado para desviar o interrumpir el curso de una corriente eléctrica. En el mundo moderno las aplicaciones son innumerables, van desde un simple interruptor que apaga o enciente un bombillo, hasta un complicado selector de transferencia automático de múltiples capas controlado por computadora.
Su expresión más sencilla consiste en dos contactos de metal inoxidable y el actuante. Los contactos, normalmente separados, se unen para permitir que la corriente circule. El actuante es la parte móvil que en una de sus posiciones hace presión sobre los contactos para mantenerlos unidos. (source: The Interruptor eléctrico wikipedia page)

In the Arduino, use the digitalRead(<pinNumber>) function to read the state of a digital pin. You might want to first use the digitalWrite(<pinNumber>, HIGH) function, in order to enable the internal pull-up resistor. This way, you don't have to put a pull-up resistor, and that makes your circuit much simpler.
A pull-up resistor is a basic circuit that is used to stabilize the voltage jittering of a digital switch input. Here is a nice page that introduces pull-up resistors. We will not need it for now, as mentionned above.
Analog input
With analog inputs (using the analogRead(<pinNumber>) function), what the Arduino measures is the voltage of the input, comparing to 5V, or AREF if set. This means that it will map input voltages between 0 and 5 volts into integer values between 0 and 1023. This yields a resolution between readings of: 5 volts / 1024 units or, .0049 volts (4.9 mV) per unit.
A good example of analog input is a potentiometer. A potentiometer is easy to use : it already has a voltage divider in it.
Voltage divider
Most sensors are variable resistor, that means that their resistance changes according to some changes in the physical parameters they are sensitive to. If you pass a voltage through a resistor, the voltage will drop slightly. If you want to get a more significant change in the voltage, you should use a voltage divider.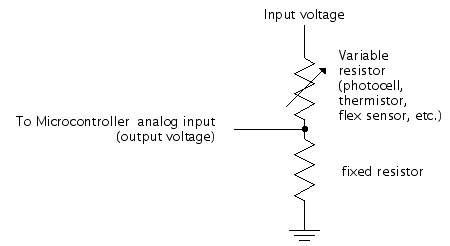 It consists of a variable resistor and a fixed resistor. The output voltage is dependent on the ratio of the two resistors. For example, when the two resistances are the same, the output voltage is half the input voltage. When the variable resistor is much less than the fixed resistor, the output voltage is very close to the input voltage. When the variable resistor is much greater than the fixed resistor, the output voltage is closer to ground.
When picking a value for the fixed resistor, consider the range of your variable resistor. If the variable resistor can go to 0 ohms, then you need a reasonably high fixed resistor to avoid a short. If your variable resistor's range is always fairly high, and never goes to 0 ohms, you're not in danger of a short, so a lower fixed resistor might be okay. When the fixed resistor's resistance is in the same order of magnitude as the variable resistor, your output voltage will always end somewhere around the middle of the input voltage range. You may lose some resolution that way, but you're reasonably guaranteed to avoid a short circuit. (Source : A ITP page on voltage dividers)
See also this nice page about voltage dividers.
PdMtlAbstractions
The PDMTL abstractions is a group of abstractions that make Pure Data a lot easier to use by:
1. Grouping abstractions by their functions rather than their author
2. Classifying many popular abstractions and externals through a unified help system
3. Providing a unified architecture for:
Timing or synchronizing events, sounds and video
Saving the state of a patch at different scopes
Loading, managing, configuring and playing sound samples
Playing and managing movie files
The creation of dynamic 3D structures
Link: PdMtlAbstractions
SimpleMessageSystem
SimpleMessageSystem is a library for Arduino 0004 and up. It facilitates communication with terminals or message based programs like Pure Data or Max/Msp. All Serial input and output will be made and interpreted as ASCII characters.
The main advantages of this approach are:
– Send, receive and parse lists to and from the Arduino Board.
– Send, receive and parse integers to and from the Arduino Board.
– Max/Msp and Pure Data can communicate with the same code on the Arduino Board.
Arduino Links
More on sensors